The importance of protecting our society's health and well-being became starkly apparent during the pandemic. People's physical and mental health were severely impacted by the sudden changes forced by the emergent global crisis.
Although nations reacted quickly at the onset, coming back from the pandemic has been difficult. Overlapping crises including the renewed urgency of the Black Lives Matter movement to address systemic racism, and the climate emergency, serve as a clarion call to prioritize the well-being of the planet, its people and its species.
We need now to move from reaction and intervention to health promotion.
Universities are uniquely positioned to lead in that work given that higher education can be a catalyst for societal change.
Although global movements and organizations are dedicated to supporting universities' work in health promotion, and many universities have committed to doing so, our research indicates that campuses struggle to promote health in a meaningful way.
Health promotion in universities
The movement to see universities promoting health was initially championed by the UK Healthy Universities Network. But it has since been promoted by many other national and pan-national networks.
The Okanagan Charter is a framework that emphasizes the role campuses can play in leading health promotion, meaning "engaging all sectors to take an explicit stance in favour of health, equity, social justice and sustainability for all, while recognizing that the well-being of people, places and the planet are interdependent."
---


Read more:
A 'return to normal' on campus? 5 ways university students and faculty hope for better


---
The framework was developed at the 2015 International Conference on Health Promoting Universities and Colleges held in Kelowna, B.C.
It built upon earlier charters including a 1986 charter forged by the World Health Organization (WHO).
Health in all aspects of campus culture
The Okanagan Charter calls for embedding health into all aspects of campus culture and leading health promotion action and collaboration. It offers institutions "a common language, principles, and framework to become health and well-being promoting campuses."
Principles include engaging the participation of students as well as staff, faculty, administrators and other decision-makers, building on strengths and valuing local and Indigenous communities' contexts and priorities.
The Canadian Health Promoting Campuses Network assists Canadian campuses in the adoption of the charter. Similarly, the United States Health Promoting Campuses Network has been instrumental in the adoption of the charter in the U.S. Over 40 Canadian campuses and organizations have signed the charter and recently 140 American campuses have signed.
All of these national networks are connected up to the International Health Promoting Universities and campuses. The networks span most of the globe. Developing a global advocacy coalition for global health and well-being would be well-supported through this international network.
Challenges with implementation
As the Okanagan Charter nears its 10th anniversary, questions remain about its limited adoption, its challenges with implementation and the progress made towards its calls to action.
Despite a global pandemic and a growing recognition of the mental health crisis, implementation of this framework is challenging.
Our research project, funded by the Social Sciences and Humanities Research Council, examined the adoption, implementation and evaluation of the charter at the first 10 Canadian campuses who signed onto the charter in 2016 and 2017: University of British Columbia, University of Saskatchewan, Simon Fraser University, University of Guelph, Mount Royal University, King's University College, University of Lethbridge, Western University, University of Calgary and Memorial University.
Implementation left to a few people
We analyzed relevant documents, websites and held interviews with key champions and leaders at each campus in our case study. The research uncovered that many of the first signatory campuses were struggling with taking action on many of their Charter commitments.
In many cases, after executive leadership signed the charter, the implementation was left to a few people working with few resources to design initiatives and follow progress.
The most successful campus, the University of British Columbia, built a collaborative structure championed by senior leadership to work across silos and set milestones to gauge progress. Champions and senior leadership deliberately engaged campus and community members in collaboratively building healthy communities.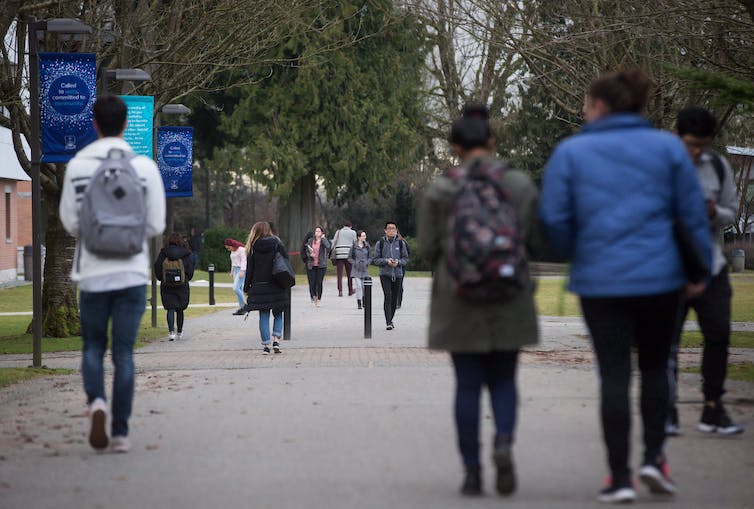 Evaluation absent
Evaluation and assessment frameworks were especially absent at most campuses. That finding has lead to our renewed concern: how are universities evaluating progress against broader health goals?
What meaningful indicators could be developed that would capture progress against the targets aligned with the United Nations' Sustainable Development Goal 3: Good Health and Well-being?
Health interventions will always be required. But campuses and society must move from reactive measures towards health promotion, and systems approaches to building a healthy society.
Well-resourced approaches
Universities need to work towards engaged leadership, deliberate actions, innovative and well-resourced approaches, networked opportunities and meaningful measures of progress.
If university leaders say that this work matters, that means they must elevate the profile of health and well-being on campus. Some identifiable next steps can be:
1) Embed well-being in institutional strategic plans.
2) Designate champions and leaders on campus.
3) Give stewards of the work resources, both financial and human, for relevant activities and initiatives.
4) Highlight achievements and initiatives in health promotion in campus communications.
5) Bring together the champions and leaders of health promotion from across campus at least annually to check in on progress and next steps.
6) Develop actionable goals and milestones to monitor progress.
Universities have an opportunity to expand the efforts of our networks and engage more community partners in working towards well-defined goals and milestones.
In the process, universities also must be mindful of how global organizations can provide the structure and support for these efforts. The WHO's efforts and the UN's work on the Sustainable Development Goals can be instrumental in helping galvanize the work of these networks. This is a conversation that must continue.

Vicki Squires received SSHRC funding for the study that is mentioned in this article.
Vicki is a member of the CHPCN or Canadian Health Promoting Campuses Network. The network is mentioned in the article but she did not receive funding from them.
Chad London received SSHRC funding for the study that is mentioned in this article. Chad is also a member of the Canadian Health Promoting Campuses Network.