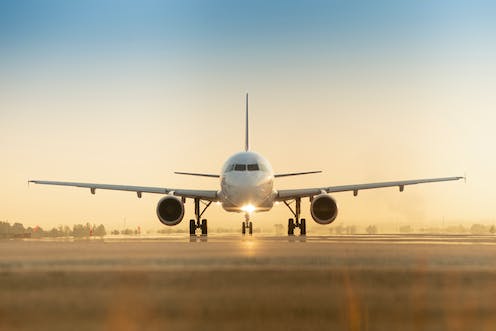 Small traces of many pathogens, such as viruses we may be infected with, are excreted when we go to the toilet. Ultimately, these agents find their way to municipal wastewater treatment plants where sewage samples can be taken and the levels of these pathogens measured.
This field of science is called wastewater-based epidemiology and it may be a way to track the spread of COVID across the world via airports. It's already a powerful tool to monitor the levels of infectious diseases circulating in a community. It's also relatively simple, inexpensive, and, most importantly, provides a snapshot of the health of a whole community (not only those people who seek medical help).
Wastewater-based epidemiology has been used for the early detection of poliovirus for decades, and it has been implemented to monitor SARS-CoV-2 (the virus that causes COVID-19) in more than 70 countries since the start of the pandemic. Wastewater surveillance allows us to not only track when SARS-CoV-2 is present, but it can identify different variants of the virus too.
In a new study, we tested the wastewater from planes arriving in the UK, and at airport terminals, for SARS-CoV-2. Our findings suggest that wastewater monitoring could be a useful tool for tracking COVID at international airports and other travel hubs. This could potentially help monitor how infectious diseases cross international borders.
Detecting COVID in wastewater
We sought to detect SARS-CoV-2 in sewage taken at the arrival terminals of three international airports in the UK (Heathrow, Bristol and Edinburgh), and from about 30 planes arriving into these airports, during March 2022. For aircraft surveillance, we collected the sewage samples from vacuum trucks which remove wastewater from the aircraft.
Most samples from both the planes and the terminals contained high concentrations of SARS-CoV-2, suggesting there were many people unwittingly bringing COVID back to the UK.
On March 18 2022 the UK government lifted the requirement for unvaccinated passengers to take a pre-departure test and another on day two after arriving. We studied sewage samples from both before and after these restrictions ended, and found high concentrations of SARS-CoV-2 regardless of when the samples were taken.
This could point to limitations in screening procedures, like pre-departure tests. That said, by March 2022 most of the UK population was vaccinated, so it's possible the majority of passengers didn't have to take a pre-departure test.
However, this is still worth noting as many countries, including the UK, reinstated pre-departure COVID testing for people travelling from China in early January 2023.
---


Read more:
Testing sewage has helped track COVID – soon it could reveal much more about the UK's health


---
We previously carried out wastewater monitoring on sewage collected at hotel quarantine facilities for people arriving in the UK from red-list countries between March and July 2021.
Similar to our latest research on airport surveillance, this work confirmed that many passengers entering the UK were carrying SARS-CoV-2. In this case, all passengers arriving would have had to take a pre-departure test.
These cases may not have been caught because the infection was in its early stages when they were first tested, because the testing failed or because they contracted COVID while in transit. But this clearly shows the difficulties associated with trying to prevent infectious diseases crossing international borders.
Some limitations
Wastewater testing to monitor air travel passengers does have some drawbacks. For example, not every passenger uses the toilet on the plane. In a recent study we found that only 13% of passengers on short-haul flights and 36% of those on long-haul flights would be likely to defecate on the plane.
This data combined with the typical concentration of SARS-CoV-2 in faeces suggest that wastewater monitoring in this context is likely to capture about 8%–14% of all COVID cases on an aircraft. This is still a valuable addition to existing testing methods.
---


Read more:
Polio was recently detected in sewage in the UK – here's what else scientists look for in our wastewater


---
There may also be limitations in sampling and logistics. Sampling directly from aircraft is prohibited in some cases. It can be technically challenging as well, especially at large airports with hundreds of flights arriving every day. Sampling from vacuum trucks is more feasible than going directly onto the aircraft, but there is a potential risk of cross-contamination, as the trucks are not washed or disinfected frequently.
When it comes to sampling sewers in passenger terminals, the origin of the detected pathogen in unknown, and there's a risk that the pathogen identified is from ground crew members and not from travellers. Even when a variant of interest is detected in an aircraft sample with known origin, it still raises the question as to whether the infected person (or people) will remain in the country or transit onward.
A valuable tool
It's important for all countries to monitor what potential new diseases, and new variants of established diseases, are entering their borders. Despite some possible limitations, our research suggests that wastewater-based epidemiology could be a useful tool for the surveillance of SARS-CoV-2 and other viral pathogens among international travellers.
This approach would help to better understand which pathogens are circulating globally without a need for individual testing, which can face ethical challenges and be complicated and expensive to undertake.
Indeed, a number of countries, including the US, Canada and EU member states have so far implemented wastewater monitoring on planes to identify novel SARS-CoV-2 variants.

Kata Farkas receives funding from the Welsh Government.
Davey Jones receives funding from Welsh Government and the UK Health Security Agency.